Bio-Fermented Coconut Water Concentrate 500ml
Rich in naturally-occurring electrolytes and six raw probiotic strains to help hydrate, plump and glow
Coconut Water encourages hydration
Probiotics beautify the gut to support brain, heart and immune system health
Contains natural electrolytes which can regulate blood pressure and muscle contraction
Shipping cost under $60 via Startrack: $13.20
Free shipping for orders over $60 Australia wide
*Subscriptions are subject to terms and conditions
---
Why You'll Love It
Refreshing and revitalising, coconut water contains naturally-occurring electrolytes for ultimate hydration and replenishment. For additional gut-nourishing and skin-hydrating properties, coconut water has been added into our bio-fermented probiotic base.
Each Rochway Bio-Fermented Liquid is fermented using our unique BioRestore™ process. Papaya undergoes five stages of bio-fermentation using broad-spectrum probiotics, resulting in a more bio-available and bio-active complex to help beautify the gut and support whole body wellbeing.
Ingredients
Bio-fermented probiotic concentrate BioRestore™ (Papaya, Coconut Water, Lemon Myrtle), natural sweetener (glycerol)
The six strains used in the fermentation process include Lactobacillus acidophilus, Lactobacillus casei, Lactobacillus plantarum, Lactobacillus bulgaricus, Bifidobacterium lactis and Saccharomyces boulardii
Naturally contains no gluten, lactose or alcohol. Refined sugar free. Vegan friendly.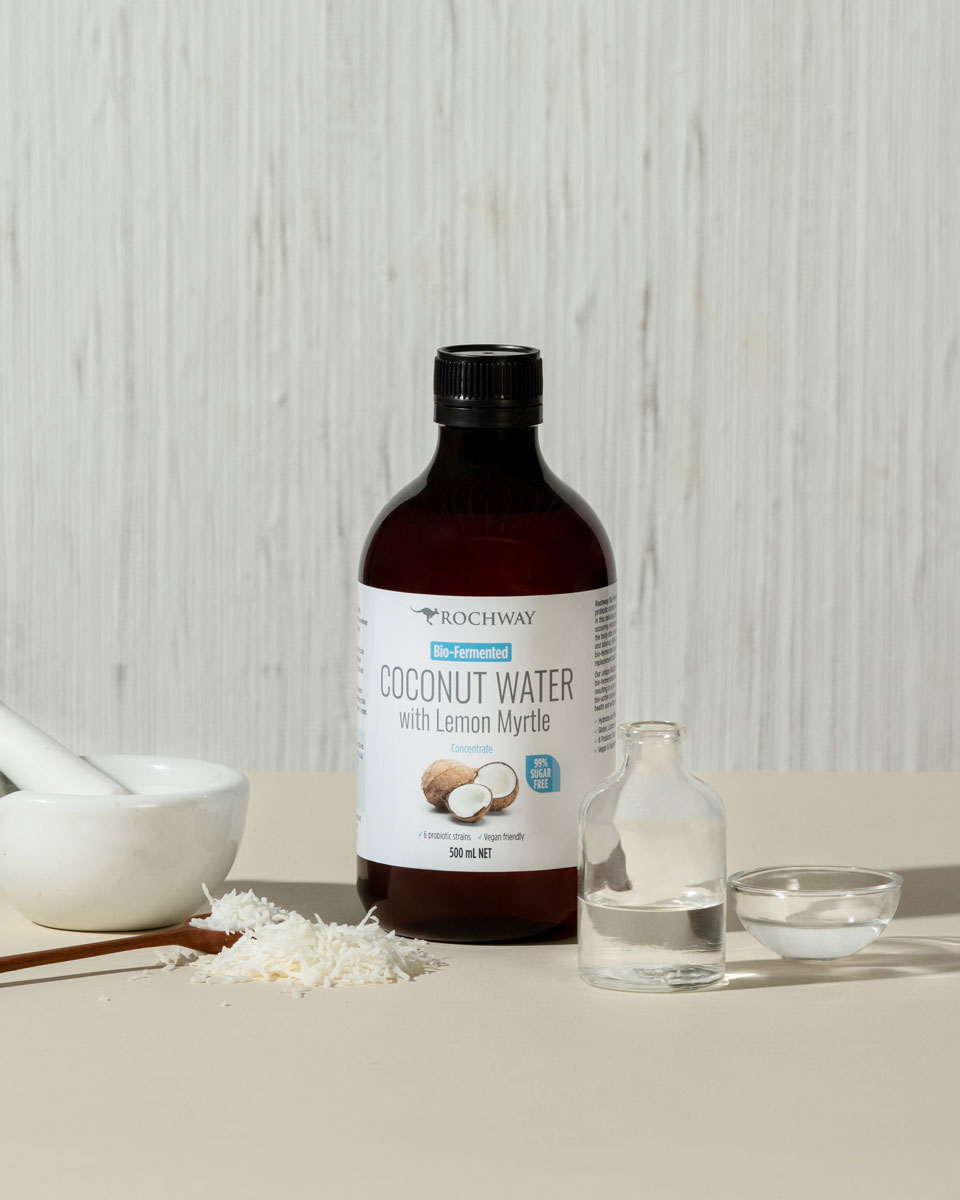 How to Use
Mix 15ml with 200ml of chilled water, or into yoghurt, juices or smoothies. Let your creative side decide.
If pregnant or breastfeeding talk to your health professional. Not suitable for children under 3 years. Store below 25°C. Refrigerate after opening.